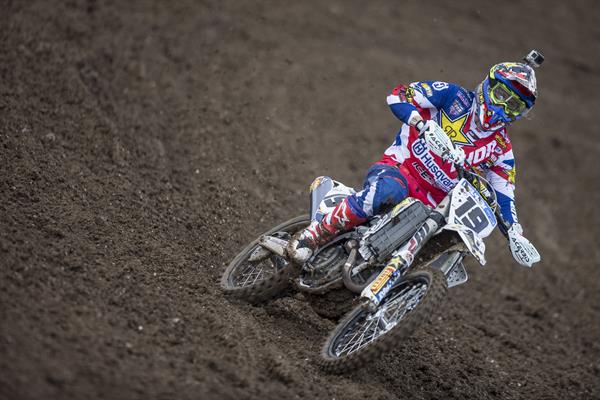 MAX ANSTIE CLAIMS TWO EMPHATIC MOTO WINS WHILE GAUTIER PAULIN & CHRISTOPHE CHARLIER HELP TEAM FRANCE SECURE OVERALL VICTORY
Enjoying a highly successful 71st edition of the Motocross of Nations in the United Kingdom, the Rockstar Energy Husqvarna Factory Racing team saw Max Anstie earn two impressive moto victories while Gautier Paulin and Christophe Charlier played key roles in helping Team France secure their fourth consecutive MXoN victory.
With thousands of fans from all-around the world filling the hillsides around the Matterley Basin track, the 2017 Motocross of Nations lived up to all expectations as the most prestigious event in the annual motocross calendar.
Leading Team France to an incredible fourth consecutive overall MXoN victory was Rockstar Energy Husqvarna Factory Racing's Gautier Paulin. Wrapping up his debut season aboard Husqvarna's FC 450 machine, Gautier collected impressive 3-6 moto results in the United Kingdom.
Rockstar Energy Husqvarna Factory Racing's Christophe Charlier proudly represented Team France in the MX2 category. Enjoying an impressive return to motocross competition, Christophe raced his FC 250 machine to 14-6 results in the two motos. Helping secure overall victory for France, Charlier completed an incredible feat having won the 2017 Motocross of Nations and the 2017 International Six Days Enduro with Team France.
Putting in two remarkable moto performances on home soil, Rockstar Energy Husqvarna Factory Racing's Max Anstie topped the MXGP category at the 2017 Motocross of Nations. Winning both the opening MXGP&MX2 moto as well as the final Open&MXGP race, Anstie also helped Team Great Britain secure a spot on the overall podium in third overall behind France and The Netherlands.
Playing his own part in assisting Team Great Britain secure third overall was Max' teammate Dean Wilson. Returning to Europe after a solid season of US SX and MX competition, the Rockstar Energy Husqvarna Factory Racing rider collected 7-8 moto results at the muddy Matterley Basin track.
Proudly representing Team USA, Rockstar Energy Husqvarna Factory Racing's Zach Osborne was a force to be reckoned with in the MX2 category. Securing an impressive MX2 qualifying race victory on Saturday, Zach battled to a 10th place result in the opening MXGP&MX2 moto. Coming back even stronger in the second MX2&Open combined race, the FC 250 powered rider kept charging hard to eventually cross the line in third position. Osborne claimed the runner-up spot in the MX2 class' final standings.
Switching to the FC 450 machine Thomas Covington kicked off his weekend at Matterley Basin with a seventh-place result in the Open qualifying race. Suffering mediocre starts in both final motos, the Rockstar Energy Husqvarna Factory Racing rider claimed 22-17 results in the two final motos. Covington together with teammates Zach Osborne and Cole Seeley brought Team USA home in 10th position in the Nation's final standings.
Collecting two top 10 moto results in the British mud, Thomas-Kjer Olsen assisted Team Denmark secure 11th position in the Nation's final standings. Claiming ninth in the opening MXGP&MX2 combined moto, the Rockstar Energy Husqvarna Factory Racing team rookie wrapped up the weekend with 10th in the second MX2&Open race.
Racing for Team Germany, Max Nagl was unable to contest Sunday's final motos due to a hand injury the Rockstar Energy Husqvarna Factory Racing rider picked up during the MXGP qualifying moto.
Gautier Paulin – Team France [MXGP]: "Winning the Nations is a crazy feeling that never gets old. This is such a special event with fans and spectators travelling from all parts of the word to see us race. I really want to thank my teammates Christophe Charlier and Romain Febvre. They did a great job and the overall win belongs to all three of us. The atmosphere this year has been amazing. As for me, it feels great to be able to get a fourth consecutive win with the team. I did my best to secure two good results in the final motos and I made it happen. I loved every moment of this year's Motocross of Nations."
Christophe Charlier – Team France [MX2]: "I'm over the moon with this victory. Especially for me focusing all my efforts this season into the EnduroGP World Championship, it's been a crazy experience coming back to the pinnacle of motocross competition. The Nations is always a huge event and this season it seemed that it was even more spectacular. As for me, I spent the last couple of weeks training on the FC 250 machine and it all worked out pretty well here in the UK. I got 14th in the first moto and then managed to improve to sixth in moto two. It's been a crazy journey and it feels amazing to have now won the ISDE and the Nations during the same season."
Max Anstie – Team Great Britain [MXGP]: "Getting two moto wins and seeing our team finish on the podium is an amazing feeling. My teammates and myself have done well this weekend. We all put in a great effort into the Nations and it's great to bring Team GB on the box in front of our home crowd. For me these two moto wins feel like a dream come true. I've always wanted to get a win in the MXGP class and now I've got two victories at the most prestigious event of the season. In moto one I got the lead quite early and just tried to stay focused and hit my lines correctly. Then in moto two we had a good battle with Febvre and eventually I managed to come out on top. It's an unreal feeling."
Dean Wilson – Team Great Britain [Open]: "It was a pretty tough weekend with the weather changing on Sunday. Conditions were treacherous on the track and it was easy to make mistakes. I got seventh in my first moto and then eighth in the second. It was nothing spectacular but we managed to bring Team Great Britain on the podium. Max [Anstie] did an amazing job this weekend getting two solid victories and our teammate Tommy [Searle] rode well too. It's good that we managed to bring our team on the box for the first time after 20 years, it's pretty exciting."
Zach Osborne – Team USA [MX2]: "I was happy to be back racing on familiar British soil. I did my best in the qualifying moto and was happy to get away with the win. Then on Sunday my performance was good. I didn't get a good rhythm in the opening moto and following a small crash I had to settle for 10th at the line. In the second moto I felt much better and managed to make some good passes in the last few laps for third. I'm satisfied with second overall in the MX2 class. For Team USA it was a tough weekend but I am sure we will come back fighting for next year."
Thomas Covington – Team USA [Open]: "I was looking forward to representing Team USA for the first time in my career. My speed was good on the 450 machine but things didn't work out for me in any of the final motos. I got a bad start in my first moto and then went down three times during the race. My bars and levers were bent so I just did my best to finish the race. Then in the second moto I wasn't able to get a good start again. I tried to come back as closer as possible to the top but had to settle for 17th at the line."
Thomas Kjer-Olsen – Team Denmark [MX2]: "It was a challenging weekend here in England. The track was technical and the rain made it muddy for the final motos on Sunday. I didn't get the best of starts but put in some good lap times and made a few good passes during both motos. My goal was to be top 10 in both motos and I managed to finish ninth and 10th. I'm pretty happy with my riding as well, as it's been a bit better than it was during the last few GPs. Overall, it's been a positive weekend for me and I'm already looking forward to the coming season."
Download high-res images from the 2017 MXoN here. 
Results – FIM Motocross of Nations 2017
Nations Final Classification 
1. France – 20pts
Gautier Paulin (Husqvarna), Christophe Charlier (Husqvarna), Romain Febvre (Yamaha)
2. The Netherlands – 31pts
Jeffrey Herlings (KTM), Glenn Coldenhoff (KTM), Brian Bogers (KTM)
3. Great Britain – 32pts
Max Anstie (Husqvarna), Dean Wilson (Husqvarna), Tommy Searle (Kawasaki)
Race 1 (MXGP + MX2) 
1. Max Anstie (Husqvarna) 12 laps, 36:10.357; 2. Tim Gajser (Honda) 36:16.608; 3. Gautier Paulin (Husqvarna) 36:19.755… 9. Thomas Kjer-Olsen (Husqvarna) 37:30.118; 10. Zach Osborne (Husqvarna) 37:41.483… 14. Christophe Charlier (Husqvarna) 38:24.938… 16. Rui Goncalves (Husqvarna) 38:30.346… 19. Henry Jacobi (Husqvarna) 11 laps, 36:35.301; 20. Harri Kullas (Husqvarna) 36:38.634
Race 2 (MX2 + Open) 
1. Jeffrey Herlings (KTM) 13 laps, 37:59.364; 2. Romain Febvre (Yamaha) 38:13.094; 3. Zach Osborne (Husqvarna) 39:38.240… 6. Christophe Charlier (Husqvarna) 39:48.481; 7. Dean Wilson (Husqvarna) 40:00.428… 10. Thomas Kjer-Olsen (Husqvarna) 40:27.488; 11. Tanel Leok (Husqvarna) 40:35.876… 22. Thomas Covington (Husqvarna) 12 laps, 38:51.676… 26. Harri Kullas (Husqvarna) 40:20.623… 30. Iker Larranaga (Husqvarna) 11 laps, 38:05.467 
Race 3 (Open + MXGP) 
1. Max Anstie (Husqvarna) 13 laps, 37:59.163; 2. Jeffrey Herlings (KTM) 38:00.271; 3. Romain Febvre (Yamaha) 38:59.174… 6. Gautier Paulin (Husqvarna) 39:36.130… 8. Dean Wilson (Husqvarna) 39:50.756… 14. Tanel Leok (Husqvarna) 12 laps, 38:10.992… 16. Rui Goncalves (Husqvarna) 38:13.794; 17. Thomas Covington (Husqvarna) 38:14.438… 24. Iker Larranaga (Husqvarna) 40:16.980