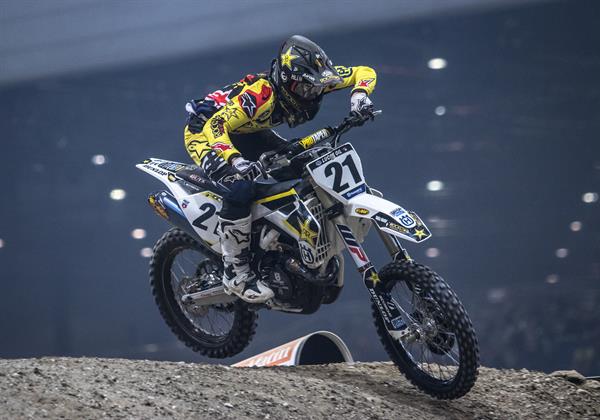 ROCKSTAR ENERGY HUSQVARNA FACTORY RACING RIDER ENJOYS SUCCESSFUL WEEKEND AT 32ND RUNNING OF GENEVA SUPERCROSS
Rockstar Energy Husqvarna Factory Racing's Jason Anderson has claimed the runner-up position on both nights of racing at the 2017 Geneva Supercross. Finishing a close second on Friday's opening final, Anderson repeated his performance during Saturday's race, missing out on the win by less than three seconds.
Fresh from his overall win at the Aus-X Open Supercross in Australia at the beginning of November, Jason Anderson brought his winning pace to Europe and the 2017 Geneva Supercross in Switzerland. After qualifying fourth on Friday, he went on to win his heat race from fellow American, Justin Brayton. Going into the SX Open final, Anderson held the lead for the first two laps but was then passed by eventual winner, Marvin Musquin. The pair battled for top honours throughout the race with the Rockstar Energy Husqvarna rider finishing as runner-up at the flag, trailing the winner by only four seconds.
Saturday also went well for Anderson as he won his semi-final. A great start from the gate in the final gave the Rockstar Energy Husqvarna rider the holeshot and the race lead during the first few laps. Setting a good pace at the front, Jason and second-placed Marvin Musquin soon started to gap the rest of the field. Unfortunately, a small mistake on a slower part of the track resulted in Anderson dropping his bike and losing the lead. Despite remounting and fighting hard to catch Musquin, there wasn't enough time left and Anderson crossed the line as runner-up, just two-and-a-half seconds from the win.
Jason Anderson: "Day one went well here in Geneva. From the first practice to the last I was just learning the whole process. I didn't realise the first practice was timed but still managed to qualify fourth which was ok. After making a few tweaks to my bike before going into the night-race I knew I just had to get a good start and get up front to battle with the guys. It didn't come as easily as I had thought, Brayton and Musquin were really strong and it took a little time for me to get into my rhythm. In the main I felt comfortable and it was good to be able to fight for the win.
Saturday was pretty decent – I qualified second, which was good. In my heat race I stalled on the line and fought my way right back to the front from last place. The track here in Geneva is a little tighter than I'm used to so I've found it quite tiring and it's taken a little while to adapt my style. In the main I got the holeshot and tried to control the race from the front, but I knew Marvin wasn't far behind. A couple of minutes in I dropped the bike in one of the tighter turns and lost the lead. I tried my best to get back on terms with the leader but there wasn't enough time. I'm happy with how I rode and I'll definitely be back to Geneva next year to fight for the win."
Results – Geneva, SX Open class
Friday night
1. Marvin Musquin (KTM) 10:07.391; 2. Jason Anderson (Husqvarna) 10:11.425; 3. Justin Brayton (Honda) 10:26.400; 4. Cedric Soubeyras (Suzuki) 10:41.195; 5. Thomas Ramette (Suzuki) 10:43.463…
Saturday night
1. Marvin Musquin (KTM) 9:57.869; 2. Jason Anderson (Husqvarna) 10:00.443; 3. Justin Brayton (Honda) 10:23.088; 4. Cedric Soubeyras (Suzuki) 10:27.468; 5. Adrien Escoffier (Husqvarna) 10:31.075…