Round 8 – AMA Pro Motocross Championship – October 3, 2020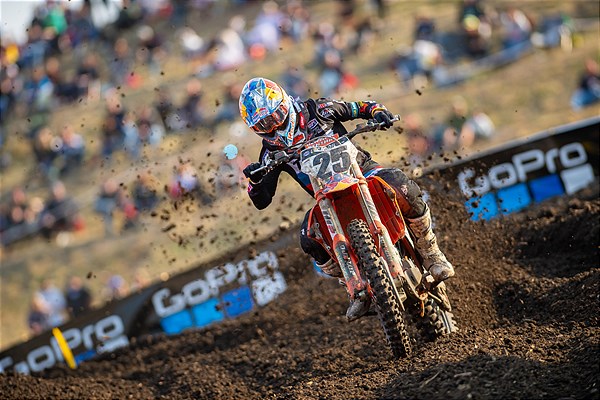 LAKEWOOD, Colo. – Following a seven-round stint on the eastern half of the U.S., the 2020 AMA Pro Motocross Championship began its western descent with Round 8 of the nine-race series at Thunder Valley Motocross Park. Red Bull KTM Factory Racing Team's Marvin Musquin made the best of a challenging day as he raced to a sixth overall at the penultimate round.
The Frenchmen entered the race weekend at less than 100% capacity after coming off two big crashes at the last two rounds. He didn't get off to the best start in Moto 1 as he found himself back in eighth on the opening lap. He quickly passed his way up to seventh and he maintained that position for most of the race. With four laps to go, he overtook sixth to ultimately finish just outside the top-five in Moto 1.
Musquin hit the reset button in Moto 2, powering his KTM 450 SX-F FACTORY EDITION off the line to capture the holeshot before settling into a top-five position early on. He struggled to gain forward momentum on the hard-packed Thunder Valley MX track, where he ultimately brought it in for eighth-place in the second moto. Heading into the season finale next Saturday, Musquin maintains third overall in the highly-contested 450MX Championship.
Marvin Musquin: "It's frustrating. Obviously, last weekend I did good in more of the sandy conditions but this weekend was harder dirt and the track was a bit difficult, just a very tough day overall. It's been a tough two weeks since my crash at Millville and then at practice at WW. I rode a couple laps this week but I can't train on the motorcycle during the week because of my thumb. On race day, pain isn't the issue but strength-wise it's not awesome and confidence-wise I was off. We'll do everything we can to finish on a high note at Pala next weekend."
Next Race: Pala National – October 10, 2020
450MX Results
1. Eli Tomac, KAW, (3-1)
2. Adam Cianciarulo, KAW, (1-3)
3. Zach Osborne, HQV, (4-2)
OTHER KTM
6. Marvin Musquin, KTM, (6-8)
9. Justin Bogle, KTM
13. Blake Baggett, KTM
17. Ben LaMay, KTM
24. McClellan Hile, KTM
30. Tristan Lane, KTM
40. Jeffrey Walker, KTM
43. Felix Lopez, KTM
250MX Results
1. Justin Cooper, YAM, (2-1)
2. Dylan Ferrandis, YAM, (1-3)
3. Jeremy Martin, HON, (4-2)
OTHER KTM
14. Brandon Hartranft, KTM
18. Joshua Varize, KTM
24. Derek Drake, KTM
26. Zack Williams, KTM
27. Curren Thurman, KTM
30. Kevin Moranz, KTM
35. Lane Shaw, KTM
37. Jake Pinhancos, KTM
38. Otto Berton, KTM
40. Kyle Greeson, KTM
41. Tyler Lowe, KTM
450MX Standings
1. Zach Osborne, 325 points
2. Adam Cianciarulo, 301
3. Marvin Musquin, 283
OTHER KTM
7. Blake Baggett, 232
14. Justin Bogle, 93
18. Henry Miller, 59
250MX Standings
1. Dylan Ferrandis, 352 points
2. Jeremy Martin, 334
3. Shane McElrath, 254
OTHER KTM
10. Brandon Hartranft, 148
14. Derek Drake, 107
20. Pierce Brown, 36